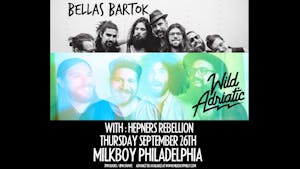 Bella's Bartok
Wild Adriatic
Hepner's Rebellion
$12.00 - $15.00
Sales Ended
Circus punk meets rock 'n roll.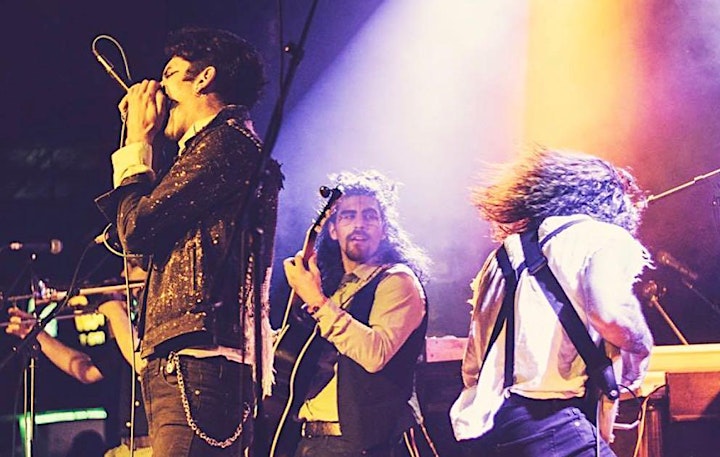 All little children grow up, one day --- all except the bedazzled and glittered boys of Bella's Bartok. Inspired by elements of Vaudeville, centuries of street performance, and an unyielding drive to promote camaraderie, Northampton, MA-based Bella's Bartok delivers a passionate kaleidoscope of sound. The songs are born of Americana and folk music of their immigrant grandparents, blended with the joy of a particular brand of pop sensibility. Their performances are at once a primal stand against oppression and a declaration of joy in the face of adversity. From quiet reflections on loss, to the howl of justice in four-part harmony, Bella's Bartok sonically and lyrically delivers a sweaty, soulful dance-party that is sure to leave the audience happily breathless.
Started in the dimly lit alleyways of Great Barrington, MA, Bella's Bartok gradually evolved from street-punk performers to an electric, brass-filled, accordion-based spectacle that has continued to entertain audiences for nearly a decade. The line-up includes: Asher Putnam (Lead Vocals), Dan Niederhauser (Bass, Vocals), Amory Drennan (Trombone, Vocals), Crisco (Drums/Percussion, Vocals), Gershon Rosen (Trumpet, Vocals), Alex Kogut (Accordion, Keyboard, Vocals) and Lucas Solórzano (Guitar, Vocals). The band has shared the stage with musicians and acts such as Rubblebucket, Red Baraat, The Indigo Girls, Larry & His Flask, The Suitcase Junket, Parsonsfield, And the Kids, Kanye, Rough Francis, Beau Sasser's Escape Plan, West End Blend, Adam Ezra Group, Meat Puppets, World Inferno/Friendship Society, Rupa & the April Fishes, Arc Iris, and many more. Find Bella's Bartok on a variety of stages, at a myriad of festivals, or on the street across the continental United States. Audiences often pick up on the band's main influences such as Frank Zappa, System of a Down, Tom Waits and Oingo Boingo.
If you've never listened to Bella's Bartok, stop what you're doing right now. Run to the nearest computer and listen to their uproarious, joyful, eclectic sound. The band plays a mesmerizing mix of Eastern European, Americana, punk, and pop music. Their live shows are theatrical, "a mix of The Nightmare Before Christmas and the Rocky Horror Picture Show" says frontman Asher Putnam. "We are the night and you are bound to boogie." So, do yourself a favor, practice a little self care, throw your societal inhibitions to the wayside and let yourself get lost to the tune of Bella's Bartok --- before the tumult of daily life rears its ugly head once more.
Floors may be broken but hearts will be mended.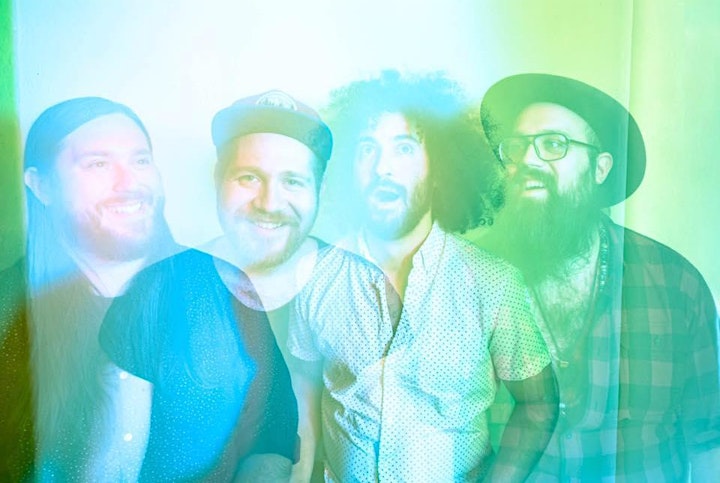 Rooted in the rowdy spirit of rock & roll, Wild Adriatic has built an international audience on a combination of groove, grit, and guitar-heavy swagger.
With the power trio's newest album, Feel, bandmates Travis Gray, Rich Derbyshire, and Mateo Vosganian update the sound of their influences -- from Seventies rock to Motown to soul -- for a contemporary audience, taking influence from the past but never losing sight of the present. They aren't revivalists; they're modern men, carrying the torch of melodic, riff-ready, high-energy rock into new territory.
Whittled into sharp shape by a touring schedule that's kept them busy for roughly 175 days a year — including two European tours, countless stateside runs, and appearances at festivals like Bonnaroo — Wild Adriatic's three members recorded Feel in Austin, teaming up with Grammy-nominated producer Frenchie Smith in the process. The goal was to shine a light on the band's strength as a live act, avoiding click tracks, digital instruments, sampled sounds, and other tricks of the recording studio. Instead, Wild Adriatic focused on the same core ingredients — Gray's guitar playing and soulful sweep of a voice; Vosganian's percussive stomp; Derbyshire's in-the-pocket bass — that helped kickstart the band in 2011, back when Wild Adriatic formed in Upstate New York.
From the psychedelic "Chasing a Ghost" to the mellow, horn-filled "Come Baby Baby" — the latter song featuring blasts of brass from the West End Horns — Feel offers up 11 new songs of modern, analog, groove-heavy rock, with Wild Adriatic taking inspiration from breakups, friendships, new relationships, tour stops, and even politics. "Appleton" finds the guys paying tribute to the Wisconsin town that's hosted some of their most most memorable shows, while songs like "Some Nerve" and "Hurricane Woman" channel the influence of guitar greats like Stevie Ray Vaughan and Joe Walsh. Much of the album came together during five separate writing retreats, including treks to Virginia, Texas and Wisconsin. Throughout it all, the songs were written collaboratively, molded by a band of longtime friends who, more than a half-decade into their career, are still turning over new leaves.
"This feels like our first record all over again," says Vosganian, a childhood friend of Gray since his elementary-school days. "We're a rock and roll band at heart, but we have heavy ties to soul and blues music, too, and as the band matures, those roots come out. This is a great way to reintroduce ourselves."
Gray agrees, saying that the real-life inspiration behind most of the album — a painful breakup — helped Wild Adriatic create a record that ultimately celebrates the electricity and elation of playing in a traveling band.
"These songs align with everything we've gone through in the last year," he adds. "They highlight hard times, but also underlying hope and optimism. We're people. We're supported by fans who buy tickets and come out to shows, and we like to hang out with them. We aren't trying to take ourselves too seriously. We're trying to connect. We're trying to feel."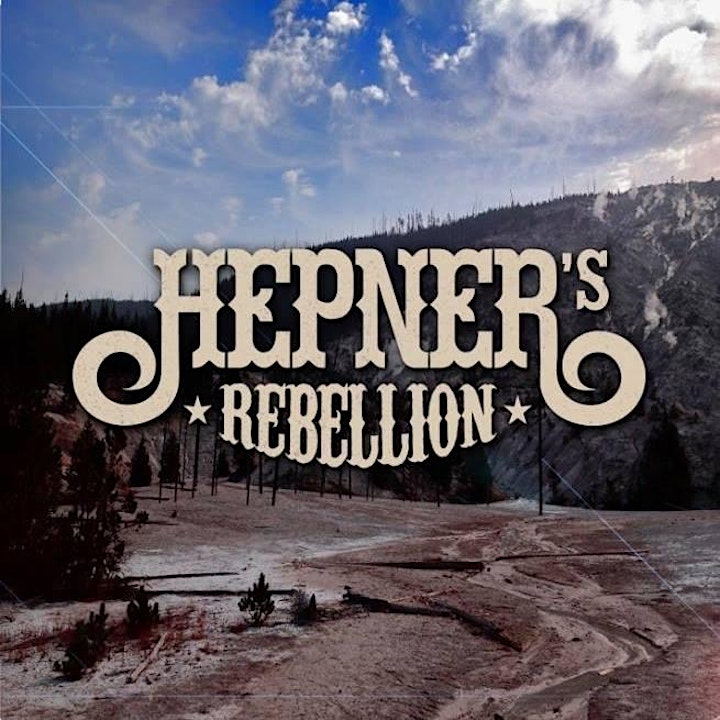 First assembled from spare parts lying around an unmarked U.S. Army motor pool, Dylan Hepner has engaged in musical resistance and guerilla compostion resulting in tactical procedures on several stringed style instruments supported by Rock and Bluegrass, but flanked by Funk and Rap. Be advised, His unique passion and cunning application of various genres provides a worthy adversary in the modern battlefield, leading his rebellion of love and compassion to a new front within the local civilian population. Considered to be armed and groovy

Hepner's Rebellion is an up-and-coming folk act that mixes traditional bluegrass style of playing with modern rock and blues themes. Originally from the farm country of Maryland, Hepners rebellion aims to blend old with the new while dazzling the audience with up tempo originals and bluegrass standards.

Venue Information:
MilkBoy
1100 Chestnut Street
Philadelphia, PA, 19107