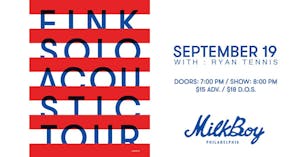 Fink w/ Ryan Tennis at MilkBoy.
Fink is the recording moniker of Fin Greenall, who started out as a DJ/Producer before progressing to making guitar-based folk/blues/indie music. Cornish, but growing up in Bristol's blossoming 90's scene, Greenall first signed to the now legendary rave label Kickin' Records in 1994 whilst still a student in Leeds.
Signing to Ninja Tune in 1997, he released 2 EPs and the critically acclaimed long player Fresh Produce in 2000, and Dj'd for Ninja Tune all over the world, as well as holding down residency's at such historic London spots such as the Blue Note and the 333 in Hoxton, as well as regular radio slots for Greater London Radio. The period between his debut album release and his sophomore record "Biscuits For Breakfast", released in 2006, saw him work for many of the Major Record labels in London including Def Jam, Talkin Loud, Sony, Virgin and finally Source Records, until the growing success of his change of direction to a singer-songwriter meant a new focus on touring, promo and recording. It was in this period that he worked with Amy Winehouse, writing and recording her earliest demos and songs - which lead her to sign with Island Records, a fact revealed when one of them surfaced as the highlight on her posthumous record "Lioness" without his knowledge.
By 2006, his own work as Fink had undertaken a stylistic change, largely abandoning electronics and focusing on acoustic-based blues and folk songwriting. With the addition of Tim Thornton on drums and Guy Whittaker on bass, Fink became a band, and recorded, engineered and produced "Biscuits of Breakfast" in his Brighton Loft, heralded by the British Press as one of the albums of the year. "Distance and Time" quickly followed in 2007, produced Andy Barlow (Lamb, U2) which lead to numerous advertising campaigns and film placements, as well as extensive European tours. In 2009, Fink released Sort of Revolution, again self produced and recorded in Brighton, which furthered and refined his songwriting and featured a collaboration with John Legend on "Maker", after Fink had co-written 2 tracks with him for his "Evolver" record, leading to 3 BMI awards. This record lead to tours of the USA, China, India, Australia and continued his growth as a formidable live force in Europe. "Perfect Darkness", from 2011, was produced by Billy Bush (Beck, Garbage) and garnered enough attention for Fink to be invited to perform with the Royal Concertgebouw Orchestra in Amsterdam. This concert was subsequently released as a live album in late 2013, and the version of "Yesterday Was Hard On All Of Us" from this record was used by Ava Duvernay in her Oscar nominated film "Selma".
The studio album "Hard Believer", again produced by Bush, was released in July 2014, courtesy of Fink's Ninja Tune sublabel R'COUP'D. This record contained the hit "Looking Too Closely" which has currently over 30 licences to Tv and Film, and 40 million plays on Spotify. following Fink's relocation to Berlin in 2014 a collection of remixes and reinterpretations from the album entitled Horizontalism was released in May of 2015. 2017 marked the beginning of his collaboration with Flood (Nick Cave, PJ Harvey, Warpaint, U2) as a producer and mentor, culminating in the release of both his Blues side project "Sunday Night Blues Club Vol.1" and "Resurgam", which was recorded and produced by Flood in his Assault And Battery studios.
Greenall has continued his involvement in the electronic music scene, releasing deep, dubby minimal material as Sideshow, starting the highly successful electronic label AUS with his longtime friend Will Saul in 2006, and recording under the QE moniker with his old friend Lee Jones for Vakant Records in Berlin. After a stint as Head of Songwriting in 2016, he is now a visiting lecturer at BIMM University in Berlin, and continues to tour all over the world, performing over 100 concerts in the last year on the support of his latest record....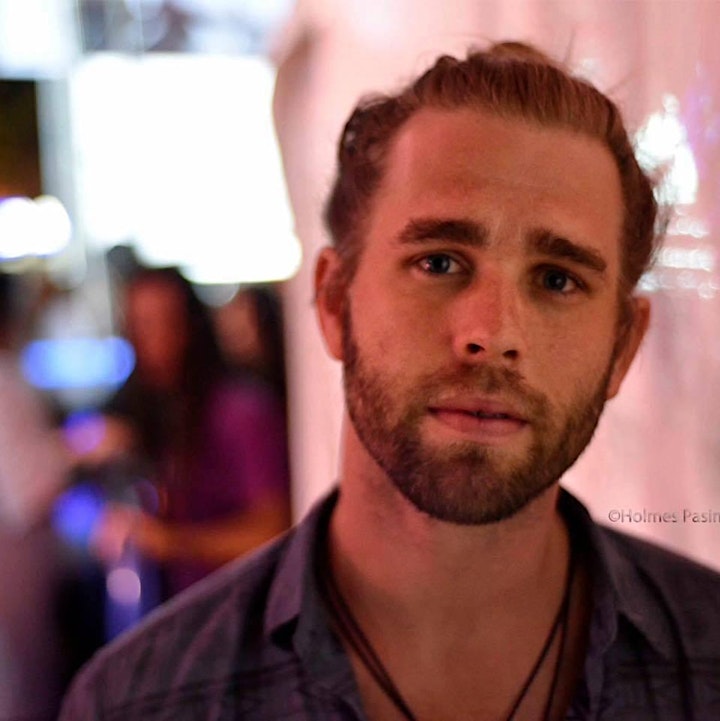 Listening to Ryan Tennis is like taking a road trip to a new place with an old friend. Songs range from soul-touching acoustic ballads to roots funk and soul to rollicking reggae covers, but under it all is a foundation of groove and warmth that keeps you moving forward.

Venue Information:
MilkBoy
1100 Chestnut Street
Philadelphia, PA, 19107