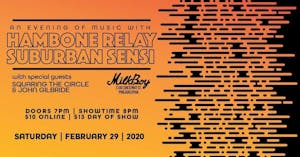 Hambone Relay
Suburban Sensi, Squaring the Circle, John Gilbride
$10.00 - $13.00
Sales Ended
Tickets on sale now!
Hambone Relay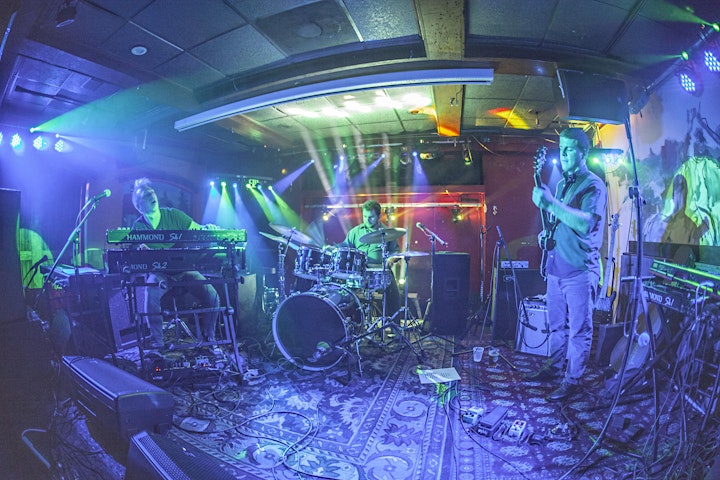 Hambone Relay redefines the modern organ trio with their own brand of high-energy electric funk jams and eclectic psychedelic grooves. The Philadelphia-based outfit was founded in 2013 by organist Mark Brown who initially came on the scene as the keyboardist for the Baltimore jam band The Bridge.
Drawing their inspiration from such organ greats as Jimmy Smith, Jon Lord and Billy Preston, Hambone Relay combines jazz, funk and rock & roll to create an epic musical brew.
Their live shows are a mixture of danceable grooves, psychedelic overtones and improvisational jams. They were recently featured on WXPN's "Free At Noon" and their single "Boilermaker" has received frequent airplay on the station.
Their music can be found on iTunes, Spotify, Pandora, Amazon, Apple Music and Bandcamp.
Suburban Sensi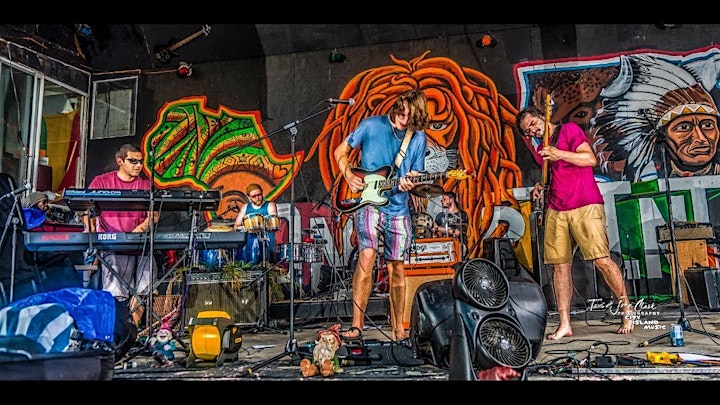 Suburban Sensi have made a name for themselves by blending a unique mix of psychedelic rock influences with reggae, ska, funk, hip hop and even country to create a sound that is intriguing and mysterious yet uplifting and danceable and completely one of a kind. Forming in 2008 in South Jersey, by cousins Tommy Gonzales (Guitar, Vocals) and Steve Difalco (Keyboard, Vocals) the band had a few lineups before the current roster of Anton Milioti (Bass, vocals), Buddy Alaimo (Drums) and Ken Ditmars (Percussion). Suburban Sensi wins over new fans every time they step on stage, with their tight musicianship and unique performances, always getting the crowd involved and feeding off their energy. Sensi has become one of the most popular and in demand bands in the Tri state area music and festival scene playing tons of major venues, festivals, bars and parties. Suburban Sensi has shared stages with notable artists such as 311, Ziggy Marley, Moe, The Wailers, Matisyahu ,Yellowman ,Keller Williams ,Bernie Worrell ,The Expendables ,Badfish and many others."

"Suburban Sensi's new self titled record is a perfect mosiac of all the bands styles and influences put into one. With a little something for everyone the band sends your ears on a cosmic journey through a variety of soundscapes and melodies that will have you grooving along and coming back for more. Available on all digital music outlets now!"

Venue Information:
MilkBoy
1100 Chestnut Street
Philadelphia, PA, 19107