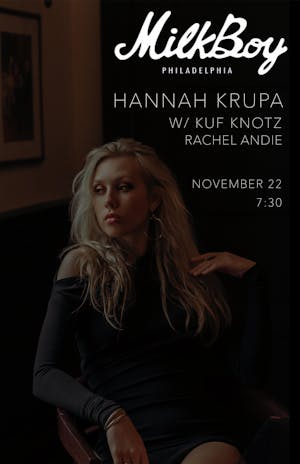 Talented singer-songwriters. Tickets on sale now!
Hannah Krupa
I grew up on a horse farm in New Jersey—running through the woods, swimming, singing and dancing in the kitchen to Annie Lennox and Sade, as my mom made dinner—these are the images that create the memories of my childhood. And like so many singer/songwriters before me, my first memory of singing was in church. My grandfather was a Methodist minister and having that gospel influence at such an early age takes deep root.
Alongside going to horse shows and the shore, I was continually being exposed to music, from WXPN 88.5 concerts to a singer/songwriter cruise when I was 10 years old, featuring Emmy Lou Harris and Brandie Carlile. Music has been THE constant in my life for as long as I can remember.
I value being a participant in life—that's what music and singing does for me most, it grounds me in the moment while channeling my soul and beliefs into something that can affect change. I believe in the power of spirituality and time spent alone in nature but I am passionate about taking action which is what I hope to accomplish through my music.
I recently played festivals and clubs throughout the greater Philadelphia area before spending the past year traveling, expanding my horizons and finding inspiration from Japan to London. I am now back on the east coast writing and recording a new album . . . developing my signature style of sultry soul.
Kuf Knotz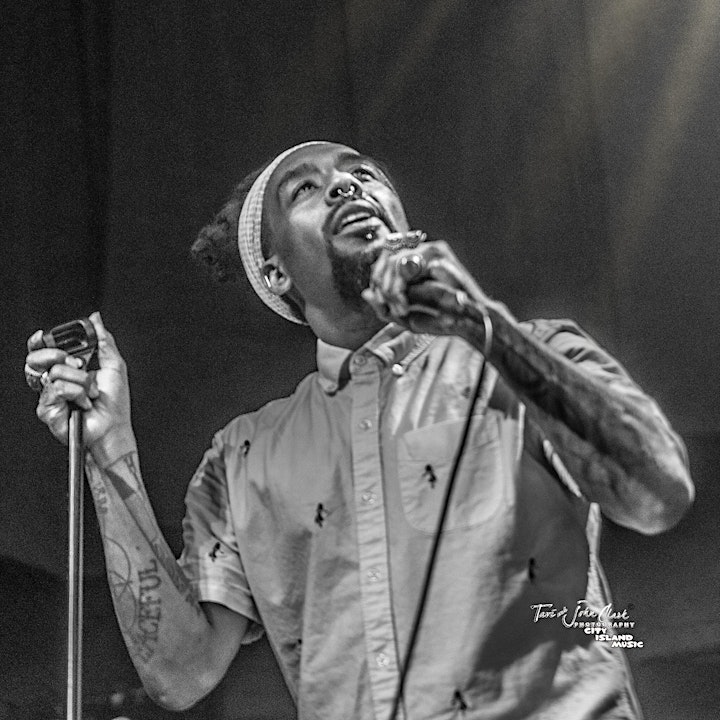 Kuf Knotz is one of todays fastest emerging alternative artists. No musical territory goes unexplored when it comes to Kuf, and it is this attitude that has led him to open for top acts - Ms Lauryn Hill, Robert Glasper, THE ROOTS, The Wailers, Common, Robert Randolph, Arrested Development, RED BARAAT, Inspectah Deck, Amos Lee, Steel Pulse, ZAC DEPUTY, Josh Ritter, Bone Thugs & Harmony, Soulive & RISING APPALCHIA to name a few.
The new album by Philadelphia- and Brooklyn-based artist Kuf Knotz — pushes the boundaries of hip-hop.
"My music's always had a pretty broad spectrum as far as influences go," he says. "It feels really natural to blend genres. I've always just felt that music is music."
Inspired to take his own indie-progressive style to the next level, Kuf began work on a collection of upbeat, feel-good music. "I felt like it was important and it was needed in hip-hop," Kuf says. Armed with his songs, he headed for Amsterdam. The change of scenery allowed him to focus on A Positive Light — his first album in more than three years — Kuf teamed with artists like Hanyo van Oosterom, who added live production (NL), Omar Ka, Ntjam Rosie & Tess Garthe' who added vocals & and Mark Gademan(NL) , who mixed the entire album.
Kuf volunteers his time for WXPN's Musicians On Call program, bringing live music to the bedsides of patients through weekly programs at six area hospitals.
Rachel Andie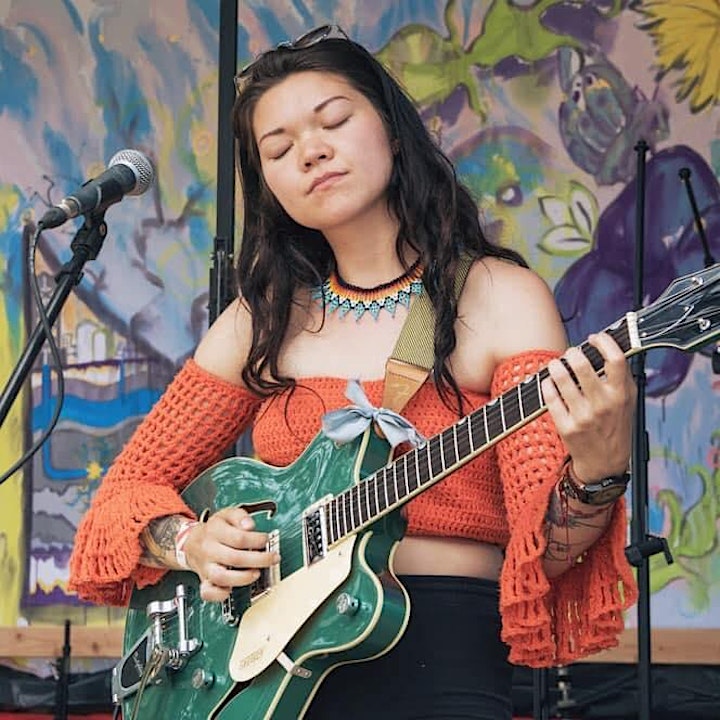 Rachel Andie is a Japanese American multi-instrumentalist and songwriter based in Philadelphia. Raised in Lansdale, PA; Andie has been vibrant piece of the local music scene since she started playing First Fridays outside of Red Lotus Tattoo at the age of 17. She has come a long way in her musical journey in Philadelphia, and now plays shows all throughout the city with her band, The Fifth Element. She also writes for her solo project consisting of looping guitar, intricate vocals, and tap dancing as percussion. Her debut album "The Common Calamity" was independently released in August of 2016 with her backing band, We The People, at the age of 19. In January of 2018, she formed a six piece band, Rachel Andie & The Fifth Element, an alternative ambient folk group consisting of local musicians and educators in Philadelphia. Through a successful Kickstarter campaign, they were able to record their first live studio album titled "Tu Me Manques" which was released on December 1st, 2018. They have been featured on WXPN's The Key & Folk Show, WEEU The Sound Room, SXSW Official Showcase, NPR Slingshot Artists, & many more. The group continues to play on a weekly basis all throughout the Greater Philadelphia area, and will be planning their first tour for the summer of 2019.

Venue Information:
MilkBoy
1100 Chestnut Street
Philadelphia, PA, 19107