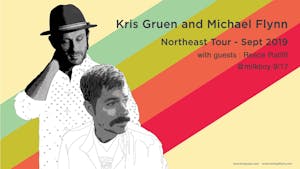 Kris Gruen
Michael Flynn
Reece Ratliff
$10.00 - $12.00
Sales Ended
Indie singer songwriters.
Kris Gruen writes songs about grown up life infused with a mystic wonder, softening the world's sharp edges like a glass of exceptionally fine bourbon. Kris grew up steeped in classic records. His Americana influenced new folk is grounded in the tradition of great narrative songwriters like Cat Stevens and Paul Simon and yet Kris's voice is strikingly current. A New York City native who's put down roots in Vermont, Kris effortlessly blends sagacious wit and emotional depth. Americana UK writes "There is the sense of theatre that artists such as Sufjan Stevens achieve, and Gruen's music certainly stands alongside such artists comfortably…truly a thing of beauty." While often garnering comparisons to contemporaries like The Avett Brothers, Ryan Adams, and Andrew Bird, Exclaim! Canada's Music Authority aptly notes, "Kris Gruen is no mere imitator. He possesses a sound all his own."
Building off the success his critically acclaimed albums Lullaby School and Part Of It All, Kris will release his new album, New Comics From The Wooded World, in the summer of 2013. New Comics From The Wooded World finds Kris Gruen's voice seasoned, soaring, and at the height of his craft. The spacious, textured production combines the sweeping sounds of classic rock and the intimacy of a Nick Drake midnight session. The album was recorded in San Francisco at John Vanderslice's Tiny Telephone Studios and at producer Charles Newman's (The Magnetic Fields, AM, Gospel Music) Mother West Soho digs in NYC. It features contributions from drummer Butch Norton (Lucinda Williams, Eels), Anais Mitchell, Sean Hayes, Shiben Bhattacharya, The Bowmans, Nashville's Jason Goforth (Over The Rhine) and more.
On past tours, Kris Gruen has shared the stage with Sean Lennon, The Avett Brothers, Bishop Allen, Jesse Malin, Nicole Atkins, Anais Mitchell, and The Bowmans. This spring, summer, and fall in support of New Comics From The Wooded World, Gruen will tour the East and West coast in multiple incarnations – with a six piece band that includes violin and trumpet, as duo, and solo acoustic.
Reece Ratliff's debut EP, I'll Take The Fall, sounds like the work of a thoughtful songwriter, a seasoned musician, and a captivating vocalist, capable of raw power and vulnerability. The record offers all those things and more, so when you find out that he wrote these songs at the age of 14 and recorded them when he was 15, it's hard not to do a double take. Reece Ratliff isn't interested in being "great for a 15 year old," this young artist wants to be great, period, and I'll Take The Fall is a formidable opening salvo toward achieving that goal. Combining his personal experiences with worldly narratives and political undertones, the EP mines territory that provides lyrical food for thought and musical hooks to spare. The title track examines the current state of the world with determination and optimism, encouraging us to "bring a little light to the dark empty space." "Think For Yourself" takes an unflinching look at notions of mob mentality while evoking musical shades of 90's rockers like Live with a dash of Alice In Chains for good measure. "Dirty Mouth" and "On My Mind" are radio-ready pop gems, and funky closing track "Stand" is a horn-laden anthem worthy of uniting the broad audience that Ratliff is reaching for.

A native of Wilmington, DE, Reece picked up his first guitar at the age of two, took the requisite guitar lessons in grade school, and cut his teeth in the local chapter of School of Rock, playing the classics from the Beatles to AC/DC in the school's prestigious house band, DE-team. Drawing on his own musical influences, such as Smallpools and Andrew McMahon in the Wilderness, Reece began expressing himself through songwriting.

Working with producer John Faye, another songwriter with Delaware roots, who led his Newark-based band, The Caulfields, to major label success in the mid-90's, Reece wrote five of his best originals for I'll Take The Fall, displaying a heart-on-your-sleeve maturity far beyond his years.

A live performer to watch, Reece has already wowed audiences from top area stages like The Queen, and the Baby Grand at Wilmington's Grand Opera house, where he participated in the finals of "Musikarmageddon," an annual showcase of Delaware's most promising up-and-coming artists. Reece will be booking tour dates, both solo and full band, following the drop date of the EP in the spring of 2019. Take the plunge into I'll Take The Fall - you're in for an exciting ride.

Venue Information:
MilkBoy
1100 Chestnut Street
Philadelphia, PA, 19107