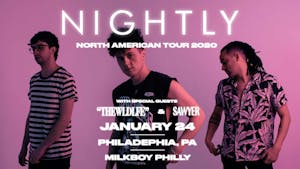 Nashville alt-pop.
The music of Nashville band Nightly is made for moody introspection, for late-night daydreaming or driving with no real destination in mind. With their heart-on-sleeve lyrics and impassioned brand of alt-pop, each track feels as private as a secret and cathartic as confession. And in their sing-along-heavy live show—a highly visual event that adds new color and detail to the Nightly aesthetic—those songs take on a strangely unifying power, turning personal heartache into a shared experience.
On Nightly's forthcoming third EP, singer Jonathan Capeci, guitarist Joey Beretta, and drummer Nicholas Sainato build off the dreamy urgency first glimpsed in their 2016 breakthrough hit "xo." But while Nightly mostly created their first two EPs in bedrooms and home studios, their latest effort was recorded at the legendary House of Blues Studios in Nashville—a world-class facility that pushed the band toward a more fully realized and unpredictable sound than ever before. 
On the EP's lead single "No Call, No Reply," Nightly bring their more finely honed vision to an unrequited-love song that's cinematic in scope. Conceived as a sister song to "No Vacancy"—a cut from their 2016 EP Honest—the track mirrors its predecessor's arpeggiated synth pattern but finds Capeci's soulful vocals perfectly channeling the pain of romantic angst. "'No Vacancy' was about not being in the right mental space to dedicate the time that a relationship requires, but this song is about me being on the other end of that experience, and sort of hung out to dry," says Capeci. At the same time, "No Call, No Reply" reveals the band's experimental side in its unearthly vocal effects. "Usually when we're writing a song, I like to freestyle melodies until I land on something I like," says Capeci. "We ended up leaving those freestyles in for this song and Auto-Tuning them, which gave it a different feeling."
On "Twenty Something," meanwhile, Nightly shift into a much brighter and more hopeful mood. "A lot of our songs are about love lost, but this song's more about sticking with someone through hard times, and how the things that connect us are stronger than the things that can tear us apart," says Capeci. Opening on a moment of stark intensity, "Twenty Something" ultimately turns epic, unfolding in sprawling guitar tones, luminous textures, and flashes of delicate falsetto.
In co-producing the EP with their longtime collaborator Keith Varon, Nightly instilled their songs with a sonic depth the band partly attributes to their more grandiose recording environment. With several of the tracks written in the studio, they also tapped into their powerful chemistry while pursuing a more deliberate approach to songcraft. "These songs came from us all being in the room together and figuring out the vibe, and from there I'd go sit down at this grand piano and really concentrate on what I wanted to say with the song," says Capeci. "I think it helps create something stronger if you strip away all the other elements, and just completely focus on lyrics and melody."
As Capeci points out, Nightly have long brought a certain contemplative quality to their creative process. "With songs we've done in the past, I'd go up to the rooftop of our apartment complex and sort of pace around singing stuff into my phone, writing down the lines as they came to me," he notes. Formed as a duo in 2015, Nightly initially sprang from a near-lifelong musical partnership between Capeci and Beretta—Pennsylvania-bred cousins who bought matching Fender Squier Stratocasters as kids. Soon after moving to Nashville, the two came up with "xo" and uploaded the bittersweet breakup anthem to their SoundCloud page. "We figured that, as a no-name band putting something out on our own, it would be a huge feat to get 100,000 plays in a month," Capeci recalls. Instead, "xo" surpassed that number nearly overnight and hit a million plays within weeks. In addition to earning massive attention online, the song quickly led to Nightly's signing with Interscope Records. 
Along with releasing Honest and their 2018 sophomore EP The Sound of Your Voice, Nightly have spent much of the past few years on the road, touring with artists like The Night Game, The Struts, and K.Flay as well as completing their first-ever headlining tour and making their debut appearances in the U.K. True to their DIY sensibilities, the band recently collaborated with an artist friend to create a series of videos specifically tailored to accompany each song in their live set, an element they debuted on their headlining run. "It's really exciting that the first time a lot of our fans get to see us live, they're experiencing the show exactly the way we envisioned it," says Capeci. 
With their name translating as 'night, love you in textspeak, Nightly continually achieve an undeniable intimacy with the crowd, and make a point of meeting with audience members after every show. Often leaving the venue with gifts of flowers and artwork lovingly made by their fans, the band sees that kinship as an extension of the emotional exchange at the heart of their music. "At one show a while ago, there was a kid who told us how—even though how there's a sad feeling to a lot of our songs—there's something about them that's healing," says Capeci. "That was such a cool thing to hear, because making music's like therapy to me. We just try to write about things that are real to us, and it means so much to know that could somehow help other people with whatever they're going through in their own lives."
THE WLDLFE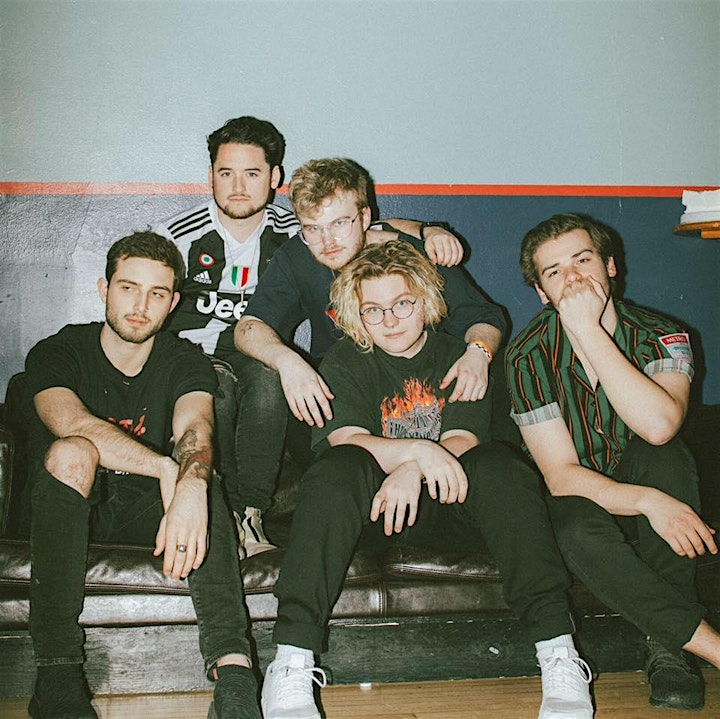 THE WLDLFE, from Indianapolis, IN, is an indie-alt outfit for fans of acts such as Maroon 5, Twenty One Pilots, and Jon Bellion. The band is comprised of frontman Jansen Hogan, guitarist Jason Boucouras, drummer Geoffrey Jones, bass player Jack Crane, and multi-instrumentalist Carson Hogan. THE WLDLFE creates cinematic pop using maximalistic production and lyricism that is honest and simple.
The band found their beginning in 2016 with their debut EP "New". "New" was a grassroots success receiving positive reviews from indie music publications, receiving airplay on over 90 college stations, being featured in the MTV Spotlight Spotify Playlist and even receiving tweets from actresses Abigail Breslin and Chloe Grace Moretz.
Their sophomore EP "ILY", continued the forward momentum seeing the band featured in Local Wolves Magazine, featured in Spotify's Indie-Pop and AP playlists, and opening for popular indie-outfit, COIN.
With the release of the group's first full length album "I'm Not Worried Anymore" the band has stepped into the spotlight. After opening for Halsey last Summer, Billboard Magazine remarked that "THE WLDLFE are working their way to the mainstream" and popular blog Earmilk commented that "THE WLDLFE have a rare and authentic sound that's all their own. "
THE WLDLFE have continued to expand and grow their sound with the releases of "The Other Side", "A Boy on a Phone", and "Self-Lovin" which showcase a more mature and refined sound.
Sawyer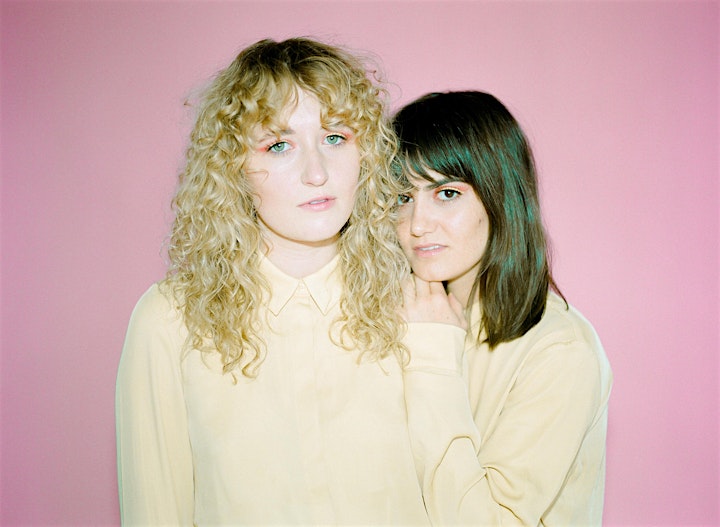 Sawyer is the Nashville based duo of Kel Taylor and Emma Harvey. Originally formed from two solo projects in 2015. Their carefree spirits, enamoring reliability, and charming personalities have brought their fans together and created a cult like following. With 250+ shows under their belt, tour slots with bands like Sure Sure and Delta Rae, and 5.4 Million streams it makes sense The Wild Honey Pie deemed them as, "part of the next wave." Their college fans like those at The Harvard Crimson praise them for their, "carefree grace" and describe them as, "airy, nuanced, and utterly aflame." They've been featured in other publications like All Things Go, The Nashville Scene, and Indie Shuffle. Sawyer's new EP Less Than More Than is out now.

Venue Information:
MilkBoy
1100 Chestnut Street
Philadelphia, PA, 19107