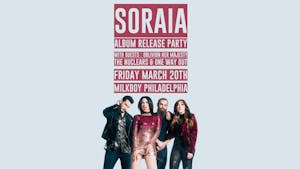 Straight up hard rock! On sale now!
Soraia
When an octopus loses one of its eight arms, it regrows the missing appendage
in a matter of weeks. This mysterious capacity for creativity and rejuvenation
under the sea symbolically presents itself again and again in the songs of Dead
Reckoning, the take-no- prisoners debut Wicked Cool Records album by
Soraia being released October 13.
"Dead Reckoning is a nautical term meaning that you know where you are in the
ocean based not on your location on a map but on where you've already been,"
says Soraia singer ZouZou Mansour. "I may not know exactly where I'm
headed, but these lyrics are all about who I am today — the good, bad and ugly."
Tracing threads beginning with the '60s soul of Stax and Motown, borrowing
flickers of luminescence from rock icons such as Patti Smith and Joan Jett as
well as Iggy Pop and The Cramps, through kindred spirits of the '90s and
beyond like PJ Harvey and The Kills, the primal sounds of this Philadelphia-
based four-piece provide a formidable match for a set of mostly autobiographical
songs that lead listeners through the depths of desperate situations and guide
them out the other side to redemption.
"Music had already saved me from several suicide attempts by the time I was 15,
when the lyrics to songs spoke to me and revealed I wasn't alone in my
suffering," ZouZou reveals. "I knew by that age I was going to do music for a
living.
"I lived a long time feeling a victim of things: life, people, situations. Powerless. I
finally realized I needed connection. That's where empowerment comes in. My
story is about bringing myself back to who I was always meant to be, which
required commitment and action. It took action to change my life. And when I
committed to and believed in that action, I asked for help where I needed it and
continue to check myself and stay humble."
After escaping some harrowing situations and getting sober, the pursuit of
ZouZou's musical dreams began crystallizing in the band Soraia.
"Soraia is actually my birth name," she says, "but we want it to be how the band
is known, because it's another name for the constellation Pleiades, and generally
is taken to mean bright, guiding force or star. Our magic and energy emulate that
idea, so it is no longer just the name but a group and the hope and purpose
behind what we do. The idea is to give light."
Surrounding ZouZou with boundless talent are bassist and frequent co-writer
Travis Smith ("resilient, passionate, with a gift for writing the catchiest riffs I've
heard from anyone, ever"), guitarist and musical director Mike Reisman ("plays
like someone with three times his experience and keeps us centered") and
drummer Brianna Sig ("plays with reckless abandon and precision").
"What makes the sound of Soraia," says ZouZou, "is we all are huge fans of the
same legendary artists and bring these strong influences to the table: Travis' love
of The Misfits and garage rock of the '60s versus my love of melody and pop,
along with influences such as Queen and Led Zeppelin."
The band made waves with their punked up cover of The Kinks' "(I'm Not) Like
Everybody Else," which hit #1 on rock radio in South America in 2013. Their last
independently released album In The Valley Of Love And Guns featured five
songs the band co-wrote with Jon Bon Jovi.
By this point, the energy emanating from the Soraia constellation had already
reached the eyes and ears of renowned tastemaker Steven Van Zandt (The E
Street Band, The Sopranos), the Wicked Cool mastermind who has eagerly
bestowed Coolest Song In The World honors on five of their tracks since 2013,
including his #1 pick of 2016, "Electrocutioner." They've consistently earned
heavy rotation on Steven's weekly syndicated radio show and SiriusXM channel
Little Steven's Underground Garage. Dead Reckoning's leadoff track
"Quicksand" already enjoyed Coolest Song honors in mid-summer 2017.
Longtime Rolling Stone editor David Fricke has also attested to his fandom,
testifying, "Searing guitars, burning soul and true CBGB grit: Soraia are the rock
you need, in your face right now."
The group made the trek up the New Jersey Turnpike in early 2017 to record
Dead Reckoning at Van Zandt's Renegade Nation Studios in downtown New
York City. Steven personally produced two of the tracks, one that he wrote for
them ("Why") and the other an obscure Prince cover, "Wow." The band co-
produced the rest of the record with the guidance of Geoff Sanoff [Fountains Of
Wayne, Dashboard Confessional]. Finishing touches were provided by
boldface studio names: mixes for the Steven-produced tracks by Bob
Clearmountain [Bruce Springsteen, The Rolling Stones] and mastering by
Bob Ludwig [David Bowie, Neil Young].
As the next release in Wicked Cool Records' partnership with The Orchard as
distributor, Dead Reckoning positions Soraia as an artist to watch. Their rising
ambitions are reflected in new horizons they're setting out to conquer, such as
their first European shows, slated for Spain and Germany this fall.
One Way Out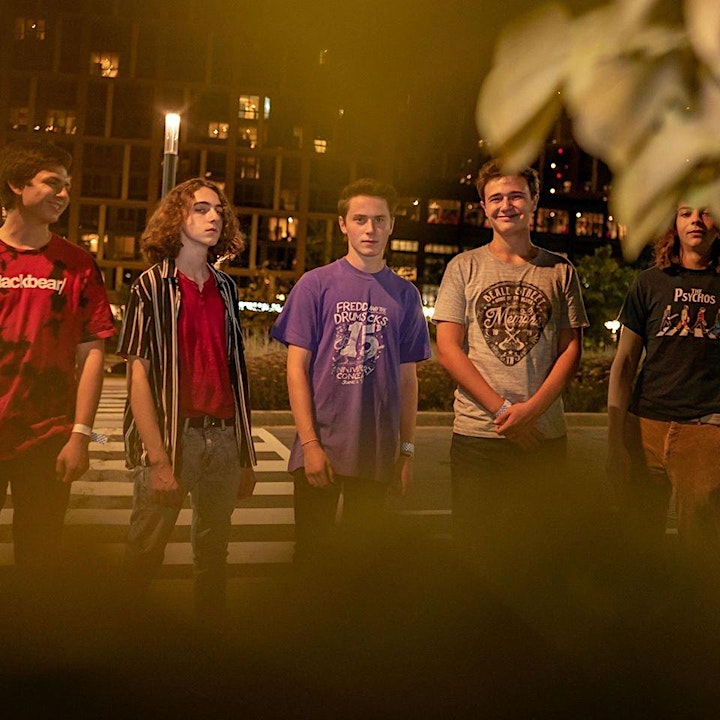 Venue Information:
MilkBoy
1100 Chestnut Street

Philadelphia, PA, 19107